Tuesday Turn About #196 Eggsciting Spring
Easter is coming and spring has just begun! And we are partying with Tuesday Turn About #196 Eggsciting Spring!
TUESDAY TURN ABOUT #196 EGGSCITING SPRING
Please note: Due to technical difficulties, there are TWO linkups listed at the bottom of this post. Please use the "open" linkup are to add your link. Thank you!
It's hard to believe that Easter will be here in just a few short days!
What are you doing to celebrate the holiday?
Our family will be going to church, per the usual, but we'll have an extra special time as ALL my kids and grandkids will be with me worshipping the Lord!
My daughter and her 'fam' attend the same church as I do, but when my son met his wife and then subsequently moved north, it was kind of a no-brainer for him to start attending the church that his father-in-law pastors. 🙂
But this Sunday…
… they will make the trek south (2 hour drive!) with the two littles and the newborn, and attend the church that he grew up in with us! I'm VERY excited, to say the least.
Then it's off to my sister's home where ALL the family will gather. That's about 25 of us!!!
We are blessed!
But enough about our holiday… be sure to let me know what YOU are doing in the comments below!
This week, I'm featuring some last minute 'eggsciting' DIYs and decor that you can do with the kids, or add to your spring home!
And remember…
Be sure to hop on over to My Family Thyme and Reinvented Delaware to check out SIX additional features from TTA!
If you haven't been featured at MWA this week, you just may be featured there!
Stay Tuned!
Be on the look-out! Our 200th party is just on the horizon and the three hostesses are getting ready for a give-away!
More details to follow in the coming weeks!
And now for some tips!
This post may contain affiliate links, at no additional cost to you. For more information, see my complete disclosure HERE.
Weekly Household Tip
Puzzles have become a 'staple' in our home, mainly because Mom enjoys them and it helps her focus on something other than her wandering thoughts at night.
But storing them has become a bit of an issue. So, instead of keeping all the boxes, I transferred the puzzles into zippered mesh bags. I simply cut out the box top and included it inside the bag along with any posters the puzzles comes with. I even ordered some smaller bags to keep the edge pieces in for the harder puzzles, and tucked the smaller bag into the larger one.
Why not just use plastic storage bags? Because these mesh bags are heavier, and they also have an easy-to-open-and-close zipper for my mom's not-so-nimble fingers. 🙂
Weekly Blogging Tip
When choosing plugins ("a small software application that extends the features and functions of a WordPress website") for your blog, be sure it's something you REALLY need and that it is a 'lightweight' plugin. Lightweight means that it won't slow-down your site.
One of the best ways to find out general info about a plugin is to join a trusted Facebook group that addresses tech issues for blogs. One of my favorites is Blogging on WordPress. I've learned A LOT on this FB group, and I'm sure you will, too!
Now let's party!
My Wee Abode
Sweet Spring Printables in Watercolor // How to Add Springtime Florals to a Small Patio
My Family Thyme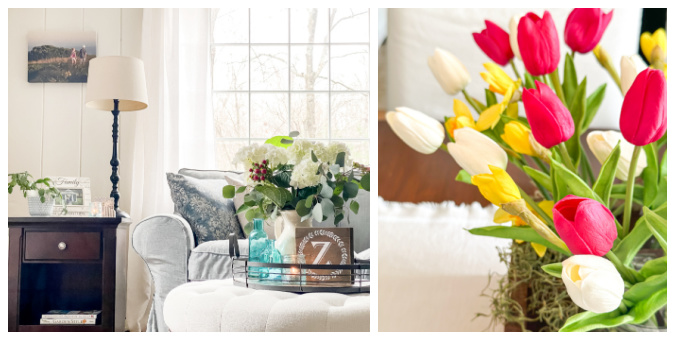 Spring Home Tour: Simple Ideas for Spring Decorating //
How to Create a Spring Arrangement Mixing Faux & Fresh Flowers
Reinvented Delaware
Repurposed Vintage Seed Spreader // A Functional Laundry Room Refresh
Check out our Tuesday Turn About Link Party Pinterest board! All NINE featured posts are pinned to this board each week!
Let's start sharing! Because this is a party, we encourage all who link up to visit several other bloggers who have linked as well – comments and pins are a great way to spread the love!
Before you get started, take a look at our guidelines:
This party is for home decor and home-related posts only (recipes, organizing, DIY, crafts, etc.). Link up to 3 related posts. Please do not link up informational posts that do not relate to the topic.
If you would please not link up shops, advertising, round-ups, other link parties, or any posts promoting sales, we would appreciate it.
DO NOT PIN FROM IMAGES ON THIS PAGE (it just won't work right on Pinterest). However, please visit the original post/source and pin from there. That works perfectly!
Please make sure that your images are in a jpeg or png format. If we can't save your image, we may not be able to feature you. So sad!
By linking to the party, you give us permission to share your projects on our blogs and social media, with the use of ONE photo from your blog for that may be included in a pinnable collage. We will always give proper credit with a no-pin image.
Remember to be on the look-out for the 200th party give-away! Be sure to let your friends know, too! This will be open to bloggers and all readers, too!