Tuesday Turn About #116 Early Fall Tables
Let's get this party started with Tuesday Turn About #116 Early Fall Tables.
TUESDAY TURN ABOUT #116 EARLY FALL TABLES
Well, looks like lots of us, both readers and bloggers, are wanting to welcome-in fall a bit early!
I know I was loving the cooler temps we were having a couple weeks ago, but we have returned to hot and humid here in So Cal.
It happens EVERY year!
Anyways, let's continue with some fall (and late summer) inspo with some lovely table decor ideas!
Also, just a little reminder. In order to feature your blog, we need a jpg/jpeg format to easily and directly download an image from your site. If you are using a different format, such as a webp format… we can't download the file… therefore, we can't feature you. Sorry!
(Quick blog tip… contact your site provider and ask them how you can switch to a jpg format!)
And remember…
Next week, we'll be back with our regular household and blog tips. So let's get right to the party this week!
Though not a requirement at all, we would love it if you would subscribe and/or follow your hostesses on one or more of our social medias:
Goings-On With Your Hostesses
My Wee Abode
10-Minute Fall Decorating with Coordinating Pillows | Simple Fall Decor Using Place Cards
Thistle Key Lane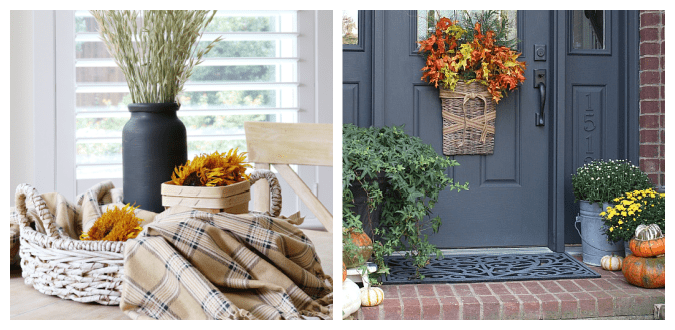 How To Make A Plaid Table Throw | Fall Decorating Ideas For A Small Porch
Bluesky At Home
3 Quick Fall Crafts | Fall Leaf Art on Canvas | How to Make a Pumpkin and Floral Wreath | 10 Fabulous Finds #3
This Week's Features:
Late Summer in the Country
This country-side barn tablescape is so lovely and has so many perfect elements for a late summer or early fall dining room table! Check out all the details Beth added at Whispers of the Heart.
Add A Little Zing with Zinnias
These fresh zinnias are a perfect touch to Rachelle's early fall tablescape! Don't you just love all those colors?! These are some of my mom's favorite flowers! Take a look at more details at My Hubbard Home.
Surprise! A Wedding Tablescape
I don't think I've ever featured a wedding tablescape at TTA before. Well, today is a first! Christine at Design and Events set out a GORGEOUS (kind of late?) summer wedding reception and I just had to share the tables and arrangements she created. (Okay… I'm stretching the early fall thing here, I know!) But, it's pretty sigh-worthy!
Check out our Tuesday Turn About Link Party Pinterest board! All NINE featured posts are pinned to this board each week!
Now It's Your Turn! Link Away!
Let's start sharing! Because this is a party, we encourage all who link up to visit several other bloggers who have linked as well – comments and pins are a great way to spread the love!
Before you get started, take a look at our guidelines:
This party is for home decor and home-related posts only (recipes, organizing, DIY, crafts, etc.). Link up to 3 related posts. Please do not link up informational posts that do not relate to the topic.
If you would please not link up shops, advertising, round-ups, other link parties, or any posts promoting sales, we would appreciate it.
DO NOT PIN FROM IMAGES ON THIS PAGE (it just won't work right on Pinterest). However, please visit the original post/source and pin from there. That works perfectly!
Please make sure that your images are in a jpeg or png format. If we can't save your image, we may not be able to feature you. So sad!
By linking to the party, you give us permission to share your projects on our blogs and social media. We will always give proper credit with a no-pin image.
Thanks for sharing this week! Keep all the fall comin'!