Tuesday Turn About #57 July Inspiration
We have started the party! Let's look at Tuesday Turn about #57 July Inspiration!
TUESDAY TURN ABOUT #57 July Inspiration
Happy Tuesday and welcome to the party!
California just received word today from the governing authority (yes, that is single, not plural) that we are shut down again… No salons, no malls, no retail stores, no dining-in restaurants, and worst of all, churches are closed down, as well.
Sigh.
Fun Days Ahead…
In better news, the Heart of Haven starts on Thursday! I'm excited to be retreating and looking forward to digitally connecting with speakers, brands, and friends!
This week, My Wee Abode is featuring more ORC inspiration along with a lovely decoupage craft that has a twist. Remember,
Though not a requirement at all, we would love it if you would subscribe and/or follow your hostesses on one or more of our social medias:
Before getting to the features, let's get some tips and tricks!
Weekly Household Tip
For many years, I just didn't 'get' all the hub-bub about Mrs. Meyer's cleaning products.
Two years ago, I opened Mrs. Meyer's Peony Dishwashing Liquid and took a whiff. I was sold!
Not only do the Mrs. Meyer's products smell amazing, they really do a great job in cleaning your home!
Give it a try! Bet you'll feel like you are getting some aromatherapy every time you clean, too! (And no, I'm not an affiliate… yet.) 😉
Weekly Blogging Tip
If you are using an email provider for subscribers (i.e., MailerLite, ConvertKit, MailChimp, etc.), make sure to 'clean-up' your subscriber list on a regular basis.
In MailerLite you can find the "Clean Up Inactive" tab in the subscriber section. This area will delete subscribers that haven't opened an email in a given amount of time (for me, it is 55 or more unopened emails).
Don't Worry About Deleting…
Deleting subscribers that aren't interested in your blog is a good thing for both of you! The reader doesn't get 'junk mail' (to them) in their inbox, and you don't have to pay for a subscriber that isn't interested in your blog/products. So don't worry about losing people from your list! It's a win-win!
Now, let's get to the party!
Goings-On With Your Hostesses
My Wee Abode
17 Color Palettes for Your Bathroom Makeover | The Traveling Teacup Cools Down in So Cal
Thistle Key Lane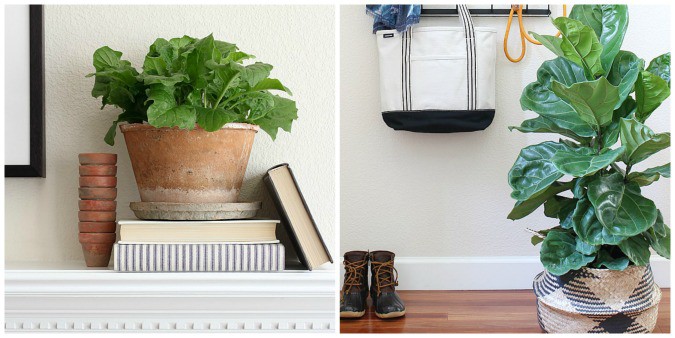 Simple Summer Home Decorating Tour | Ideas For Decorating With Plants
Bluesky At Home
Okra and Tomatoes One~Skillet Side Dish | Traditional Home with Blue and White Accessories | Stencil on Glass Artwork
This Week's Features:
Last week I featured three of the One Room Challenge participants and their reveals. This week, I'm sharing a couple more that inspired me this July, along with a pretty craft!
Blush and Natural Textures
Kippi at Home is sharing her lovely new bedroom that she created for the One Room Challenge this season. I love the pink accents with the natural textures!
Diva Den in Rich Tones
It was so fun to finally see JRL Interiors' One Room Challenge entry. Janet helped create this lovely 'diva den' for her daughter with a 'secret garden' as inspiration!
Decoupage and Punches?
This lovely decoupaged glass jar comes with a twist. Make sure to visit Gail at Purple Hues and Me to see how she created the detailed edges on this piece.
Check out our Tuesday Turn About Link Party Pinterest board! All NINE featured posts are pinned to this board each week!
Now It's Your Turn! Link Away!
Let's start sharing! Because this is a party, we encourage all who link up to visit several other bloggers who have linked as well – comments and pins are a great way to spread the love!
Before you get started, take a look at our guidelines:
This party is for home decor and home-related posts only (recipes, organizing, DIY, crafts, etc.). Link up to 3 related posts. Please do not link up informational posts that do not relate to the topic.
If you would please not link up shops, advertising, round-ups, other link parties, or any posts promoting sales, we would appreciate it.
DO NOT PIN FROM IMAGES ON THIS PAGE (it just won't work right on Pinterest). However, please visit the original post/source and pin from there. That works perfectly!
Please make sure that your images are in a jpeg or png format. If we can't save your image, we may not be able to feature you. So sad!
By linking to the party, you give us permission to share your projects on our blogs and social media. We will always give proper credit with a no-pin image.
Can't wait to see all the lovely posts this week, and I'm looking forward to sharing all about Haven when I get back!