Tuesday Turn About #90 Spring Updates
Come inspire and be inspired at Tuesday Turn About #90 Spring Updates!
This week, My Wee Abode is featuring some spring updates from THREE different countries!
TUESDAY TURN ABOUT #90 Spring Updates
The spring season seems to have sprung in So Cal! The sun is shining, and the temps are in the low 60s. I love it!
So, this week I'm sharing some spring updates that just might inspire you to take on a DIY project… or two!
And for even more tips and tricks…
Let's take a look at some tips before we see what the hostesses have been up to and what we're featuring!
Weekly Household Tip
Thanks for the tips from last week's request. After doing some additional research, I found a hack that I've been trying this past week.
After placing a flat sheet on top of the fitted sheet, take the left bottom corner of the flat (top) sheet and tie a knot in it. Then place the knot underneath the mattress and then tuck it into the corner of the fitted sheet. Repeat this on the right bottom corner. So far, my sheet is staying 'put' and tucked-in!
Weekly Blogging Tip
We can post on Instagram and Facebook 'til the cows come home, but if we don't grow our email lists, we could be out of business just like that!
If Instagram or Facebook shuts down, or these social medias decide to start charging a fee, we are out of luck (or we can pay the price). But, even if these things happen, we still OWN our blogs and emails lists! And, in the long run it's our best ROI (return on investment). More on this in coming weeks!
Though not a requirement at all, we would love it if you would subscribe and/or follow your hostesses on one or more of our social medias:
Goings-On With Your Hostesses
My Wee Abode
How to Add Spring-time Flowers to a Small Patio | DIY Velvet Easter Eggs
Thistle Key Lane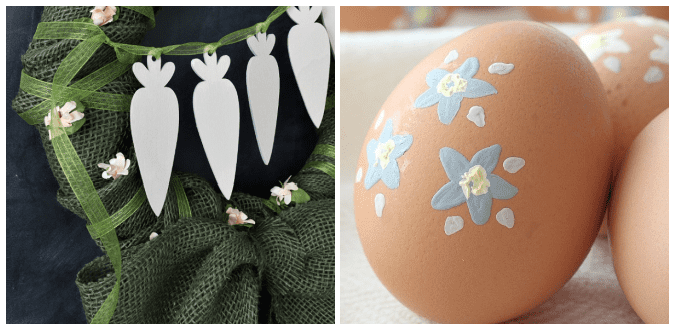 Spring Burlap And Carrot Wreath | Ideas For Painting Brown Eggs
Bluesky At Home
Styling a Spring Master Bedroom| How to Use Faux Flowers
5 Spring and Easter DIY Projects
This Week's Features:
Update a Room With Wallpaper
Here in the U.S., Janet from JRL Interiors is sharing some wallpaper intel with us! I even learned a tip that I hadn't heard of before (see if you can spot it, too). My fave style she shares is the leaves/branch graphics. You may find something a bit similar coming to the never-ending bathroom makeover at MWA! 😉
Faux Shiplap AND Faux Beams?
I not only share a name with Julie at Restyle and Relove, but we share a love of affordable decor solutions, too! Take a trip 'down under' and see how Julie added faux beams to her tiny living area (another thing we have in common!), and then hop on over and check out her faux shiplap!
Brighten Up a Kitchen for Spring
One of our Canadian blogging friends is sharing her budget-friendly amazing kitchen update! Marie from Interior Frugalista did a kitchen makeover on a $400 budget. Her kitchen island is pure genius, and we both have a love for Behr's Toasty Gray! Be sure to hop on over!
Check out our Tuesday Turn About Link Party Pinterest board! All NINE featured posts are pinned to this board each week!
Now It's Your Turn! Link Away!
Let's start sharing! Because this is a party, we encourage all who link up to visit several other bloggers who have linked as well – comments and pins are a great way to spread the love!
Before you get started, take a look at our guidelines:
This party is for home decor and home-related posts only (recipes, organizing, DIY, crafts, etc.). Link up to 3 related posts. Please do not link up informational posts that do not relate to the topic.
If you would please not link up shops, advertising, round-ups, other link parties, or any posts promoting sales, we would appreciate it.
DO NOT PIN FROM IMAGES ON THIS PAGE (it just won't work right on Pinterest). However, please visit the original post/source and pin from there. That works perfectly!
Please make sure that your images are in a jpeg or png format. If we can't save your image, we may not be able to feature you. So sad!
By linking to the party, you give us permission to share your projects on our blogs and social media. We will always give proper credit with a no-pin image.
Loving seeing all the spring posts, makeovers, and DIYs! Keep 'em comin'!