Tuesday Turn About #123 Comfort Food Recipes
We've kicked off the party! It's Tuesday Turn About #123 Comfort Food Recipes!
TUESDAY TURN ABOUT #123 COMFORT FOOD RECIPES
Hope everyone's week is going well!
Today, I'm doing a very quick post, as I am preparing to leave on vacation (and as of the publishing time of this post, I am about to land in Philly!) I just finished the Pinterest Challenge post, now I'm working on this one, and I still need to pack!
So… today I'm sharing some comfort food recipes, that actually have some healthy aspects, too! Gotta love that, right?
So, let's get to it… and remember…
I'll be back next week with a our regular blogging and household tips! Thanks for being patient!
Though not a requirement at all, we would love it if you would subscribe and/or follow your hostesses on one or more of our social medias:
Goings-On With Your Hostesses
My Wee Abode
Free Thanksgiving Printable in Watercolor // Fall Apartment Entryway Decor
Thistle Key Lane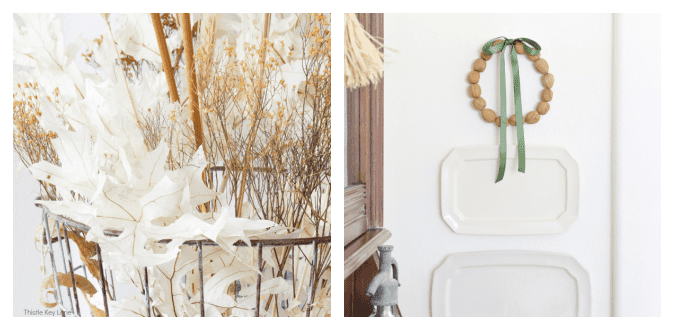 Autumn Vignette With Natural Branches | Easy DIY Walnut Wreath
Bluesky At Home

How to Style an Outdoor Thanksgiving Table Outdoors | How to Make a Grateful Thanksgiving Wood Sign | 10 Fabulous Finds #10
This Week's Features:
Brussels Sprouts and Cranberries
I know that roasted Brussel sprouts don't scream 'comfort'… but they DO warm my innards! 😉 And adding cranberries is genius! Check-out the yummy recipe from Raquel at Organized Island.
Instant Pot Stuffed Pepper Soup
One of my childhood fave meals was when my mom made stuffed bell peppers. Have you ever had them? Green peppers filled with meat, sauce, and rice, it always made for a cozy dinner! Well, Arlene from Flour on My Face is sharing her deconstructed stuffed bell pepper soup that you cook in an Instant Pot! Take a look!
Filling Breakfast Cookies
Melissa from Blessed Simplicity is sharing her recipe for yummy breakfast cookies that are healthy, too! Let me tell ya… if you are giving me a cookie for breakfast, I'm feeling a whole-lot-a comfort!
Check out our Tuesday Turn About Link Party Pinterest board! All NINE featured posts are pinned to this board each week!
Now It's Your Turn! Link Away!
Let's start sharing! Because this is a party, we encourage all who link up to visit several other bloggers who have linked as well – comments and pins are a great way to spread the love!
Before you get started, take a look at our guidelines:
This party is for home decor and home-related posts only (recipes, organizing, DIY, crafts, etc.). Link up to 3 related posts. Please do not link up informational posts that do not relate to the topic.
If you would please not link up shops, advertising, round-ups, other link parties, or any posts promoting sales, we would appreciate it.
DO NOT PIN FROM IMAGES ON THIS PAGE (it just won't work right on Pinterest). However, please visit the original post/source and pin from there. That works perfectly!
Please make sure that your images are in a jpeg or png format. If we can't save your image, we may not be able to feature you. So sad!
By linking to the party, you give us permission to share your projects on our blogs and social media. We will always give proper credit with a no-pin image.