Tuesday Turn About #75 Christmas Hangups
Welcome to Tuesday Turn About #75 Christmas Hangups. This week, I'm featuring items that can be hung in your home for some Christmas 'style'!
TUESDAY TURN ABOUT #75 CHRISTMAS HANGUPS
Welcome to the party! We are so happy you are here!
We hope your week has been blessed! It's been busy around here… crazy busy. And God is still good! 😉
This week, we had lots of Christmas posts being shared! Are you ready to start preparing for Christmas? Being a blogger, it always starts early for us!
Let's take a look at some Christmas 'hangups' this week. I'm sharing three features that you can HANG for Christmas decor! 😉 And remember…
So, let's check-out a couple tips before we look at features, shall we?
Weekly Household Tip
This may only be new to some people, but it's an easy and fun tip.
Create some wonderful seasonal fragrances in your home by simmering spices and fruit on your stove top. Throw in items in a little pot of water, like oranges, lemons, allspice, cinnamon, you know… anything that floats your boat! Then bring to a simmer and enjoy. (Be sure to take the pot off the stove before all the water evaporates!)
Weekly Blogging Tip
So many social media outlets… so little time, am I right?!
A good way to look at how much time you need to spend on any one social media for your business is, "What is the ROI?" ROI means 'return on investment". How much time are you investing, and what are you getting back from that time spent?
Which One (or two) is Working?
Is Instagram sending traffic to your blog? What about Facebook? Pinterest? Check which one (maybe two) media genres are sending you the most traffic and spend time on those. But, spend only a minimum amount of time on each (more time on the one that sends you more traffic). Most of your time should be spent on creating content your readers will enjoy and benefit from!
Though not a requirement at all, we would love it if you would subscribe and/or follow your hostesses on one or more of our social medias:
Goings-On With Your Hostesses
My Wee Abode
Frosty Mint Christmas Decor Guide | Custom Handpainted Gift Anyone Can Make
Thistle Key Lane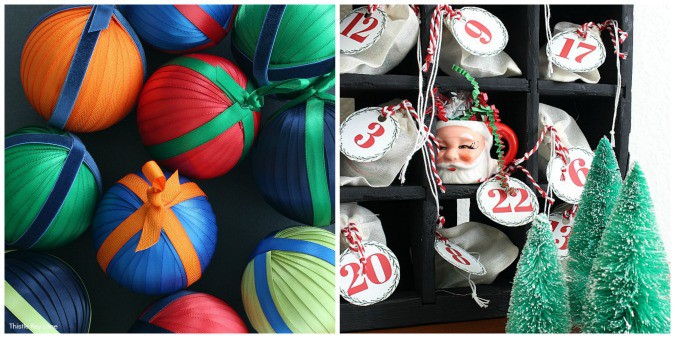 How To Make Ribbon And Ticking Christmas Ornaments | Advent Calendar With Bags And Printable Numbers
Bluesky At Home
DIY Wood Christmas Gifts | Burlap Bow and Fall Wood Sign | Thanksgiving Napkin Rings
This Week's Features:
Upcycle a Table Runner
These lovely hoop Christmas ornaments are an upcycled item from Marie at Interior Frugalista. Guess what she used for the centers? (Hint… I already gave it away in the heading. 😉 )
Natural Christmas Garland
Isn't this garland lovely? Using dried herbs and fruit, Rachel from The Ponds Farmhouse is showing us how to easily make this rustic, farmhouse garland. I bet it smells heavenly in her home!
DIY Evergreen Wreath and History Lesson
Want to create a fresh evergreen wreath for your door (or table)? Take a look at how to make this one from Jayne at Chalking Up Success. She's giving us a little history lesson, too… which I always love!
Check out our Tuesday Turn About Link Party Pinterest board! All NINE featured posts are pinned to this board each week!
Now It's Your Turn! Link Away!
Let's start sharing! Because this is a party, we encourage all who link up to visit several other bloggers who have linked as well – comments and pins are a great way to spread the love!
Before you get started, take a look at our guidelines:
This party is for home decor and home-related posts only (recipes, organizing, DIY, crafts, etc.). Link up to 3 related posts. Please do not link up informational posts that do not relate to the topic.
If you would please not link up shops, advertising, round-ups, other link parties, or any posts promoting sales, we would appreciate it.
DO NOT PIN FROM IMAGES ON THIS PAGE (it just won't work right on Pinterest). However, please visit the original post/source and pin from there. That works perfectly!
Please make sure that your images are in a jpeg or png format. If we can't save your image, we may not be able to feature you. So sad!
By linking to the party, you give us permission to share your projects on our blogs and social media. We will always give proper credit with a no-pin image.
We're so looking forward to all the holiday and Christmas posts! Right after I post this, I'm going to finish my Christmas tree! Have a blessed week!