Tuesday Turn About #162 Peachy Keen
We are all warm (and cold) and fuzzy at today's party! It's Tuesday Turn About #162 Peachy Keen.
TUESDAY TURN ABOUT #162 PEACHY KEEN
Happy August, y'all!
It's hot, I tell ya… hot, Hot, HOT!
Well, it's actually not THAT hot here in So Cal… it more humid. (Do I sound like a southerner?)
Well, today's features are both hot and cold…
Did you get to peruse all the peach recipes from last Tuesday's Pinterest Challenge? Well, if not, you just might want to go and see all the easy peach recipes that were shared! Seriously easy, and yummy!
But, if that's not enough for you, today I'm featuring three peach recipes that you are going to love!
And remember…
Be sure to hop on over to My Family Thyme and Reinvented Delaware to check out SIX additional features from TTA!
If you haven't been featured at MWA this week, you just may be featured there!
Weekly Household Tip
This past weekend, I cleaned my box fans. They are life-savers (not to mention electricity cost-savers) here in My Wee Abode.
Take a look at your fans and see if they are in need of a quick cleaning. Box fans are easy to clean. Simply unscrew the grates off both sides, place in the shower, spray them down with hot water, then spray them with cleaner, and give them a final rinse. Next, while you are letting the grates dry, take some paper towel and spray cleaner and clean the blades. Be sure to vacuum inside the fan, too!
Screw the grates back on, and you are all set until next summer!
Weekly Blogging Tip
At least week's party, I suggested you do a brain-dump on your highest ranking post.
After you finish your brain-dump, take 2-5 of your favorite ideas and SEO those topics to death.
For starters, plug-in your topic to Pinterest and see if people are looking for that solution; type the subject into Google and see what auto populates (and don't forget to scroll down a bit and look at the Google questions). Then use additional SEO tools that are available to you.
Next…
After you've done some research, take 1-3 of those topics and write posts for them. Remember to link to your original post in all your new ones, as well as link between all the new related subject posts.
My Wee Abode
Easy Creamy Fresh Peach Tartlet // Free Fall Watercolor Printable Art
My Family Thyme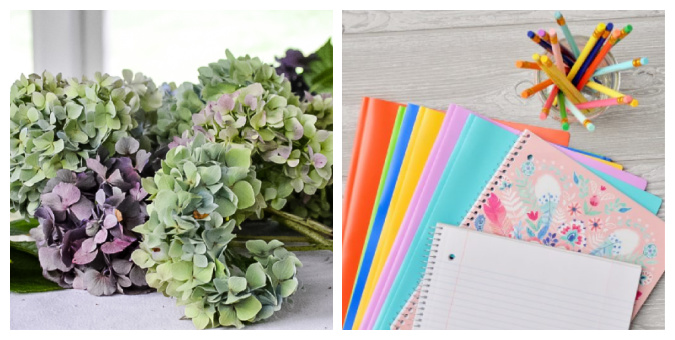 How to Dry Hydrangeas for Fall Decorating //
Ten Helpful Back To School Organization Tips For Parents
Reinvented Delaware
White Wax Dark Furniture // Washstand Makeover
Super Easy Summer Dessert
This super yummy peach sherbet is sure to go over BIG with your family! And it's so easy to make! Cindy from County Road 407 shares her "secret" TWO ingredients, along with some yummy topping ideas!
Make the Best Peach Clafouti
My former TTA co-hostess and sweet friend Carol from BlueSky at Home is sharing her super easy and delicious French peach dessert! Take a look at what a clafouti is all about. I learned a lot!
Blueberry Peach Crisp
Now, I don't know of one person that doesn't like a 'crisp' dessert. You know… apple crisp is usually the fave. But Michelle is sharing her gorgeous blueberry peach crisp with us! It's another easy recipe and sure to be a hit at your next BBQ get-together! Take a look at The Wooden Spoon Effect.
Check out our Tuesday Turn About Link Party Pinterest board! All NINE featured posts are pinned to this board each week!
Let's start sharing! Because this is a party, we encourage all who link up to visit several other bloggers who have linked as well – comments and pins are a great way to spread the love!
Before you get started, take a look at our guidelines:
This party is for home decor and home-related posts only (recipes, organizing, DIY, crafts, etc.). Link up to 3 related posts. Please do not link up informational posts that do not relate to the topic.
If you would please not link up shops, advertising, round-ups, other link parties, or any posts promoting sales, we would appreciate it.
DO NOT PIN FROM IMAGES ON THIS PAGE (it just won't work right on Pinterest). However, please visit the original post/source and pin from there. That works perfectly!
Please make sure that your images are in a jpeg or png format. If we can't save your image, we may not be able to feature you. So sad!
By linking to the party, you give us permission to share your projects on our blogs and social media, with the use of ONE photo from your blog for that may be included in a pinnable collage. We will always give proper credit with a no-pin image.
Well, y'all… Fall is in the stores, online and in the emails we are getting from all the decor stores. We are still open to summer posts (I'm trying to get the supplies for a late summer door 'wreath'), but let's start bringing on the autumnal love! 😉