Tuesday Turn About #115 So Long August
Can you believe it's the last day of August?! Let's party with Tuesday Turn About #115 So Long August!
TUESDAY TURN ABOUT #115 SO LONG AUGUST
Y'all… I just can't believe August has come to an end?
And the fall season begins on September 22!
But, can I be honest here? I'm already starting my fall decor and DIYs.
How 'bout you?
Well, this week, let's take a look at some fall decor, a craft tool comparison/review, and a DIY that is easy, but is quite amazing!
And don't forget…
But first… a couple of tips.
This post may contain affiliate links, at no additional cost to you.
For more information, see my complete disclosure HERE.
Weekly Household Tip
I've talked about Magic Erasers before, but did you know you can use dry melamine foam sponges (aka Magic Erasers) on dirt marks on your pillows and rugs? I first saw this trick when shopping at Hometalk.
I took a pillow that had a big black dirt mark up to the counter and asked if I could get a discount on the pillow. The associate pulled out a melamine foam sponge and 'buffed' the mark right off! So much for the discount, but I left with a great trick!
Weekly Blogging Tip
This blogging tip may be just too easy to even share, but then again, maybe not!
These days, most of us have smart phones (although I know one blogging friend who also has a large IG account, and she only uses her tablet! Can anyone guess who it is? She doesn't keep it a secret.).
But, I digress… When out shopping or doing errands, if a blog idea or project (or even a phrase you want to use in a post) comes to mind, open up your Notes app and jot it down so you don't forget! Easy-peasy!
Now, let's get this party started!
Though not a requirement at all, we would love it if you would subscribe and/or follow your hostesses on one or more of our social medias:
Goings-On With Your Hostesses
My Wee Abode
Easy Early Fall DIYs for You to Start Now! | DIY Fall Candle Holder with Twinkle Lights
Thistle Key Lane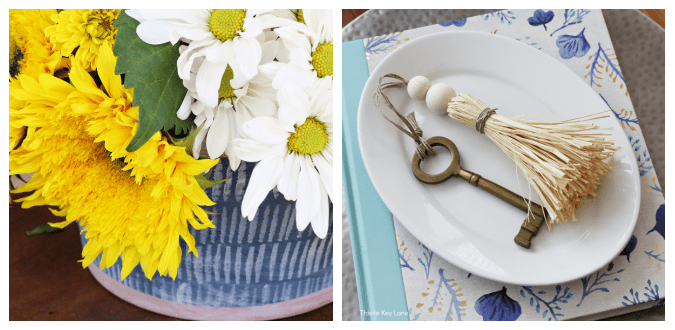 Early Fall Tablescape With Sunflowers | How To Make Raffia Tassels
Bluesky At Home

3 DIY Fall Projects | Simple Fall Mantel | Dollar Tree Fall Yard Art | Fabric and Burlap Fall Banner | Transitioning from Summer to Fall Decor | 10 Fabulous Finds from Bluesky Browsing #3
This Week's Features:
Sunflowers for Fall
Sunflowers are the perfect floral accent for early fall decor, don't you think? Well, Debra from Common Ground is showing us exactly HOW perfect they look for saying good-bye to summer and "Hello, autumn!"
The Ultimate Cutting Machine Comparison and Review
Y'all ever wondered which is the best cutting machine? I know I did some research when I was shopping for mine. This post from Every Day Savvy would have come in very handy when I was looking for my Cricut!
Painted Pillows?!
Paula from Sweet Pea is sharing a DIY that can give a facelift to any pillow! Take a look at this great tutorial for how to paint pillow covers!
Check out our Tuesday Turn About Link Party Pinterest board! All NINE featured posts are pinned to this board each week!
Now It's Your Turn! Link Away!
Let's start sharing! Because this is a party, we encourage all who link up to visit several other bloggers who have linked as well – comments and pins are a great way to spread the love!
Before you get started, take a look at our guidelines:
This party is for home decor and home-related posts only (recipes, organizing, DIY, crafts, etc.). Link up to 3 related posts. Please do not link up informational posts that do not relate to the topic.
If you would please not link up shops, advertising, round-ups, other link parties, or any posts promoting sales, we would appreciate it.
DO NOT PIN FROM IMAGES ON THIS PAGE (it just won't work right on Pinterest). However, please visit the original post/source and pin from there. That works perfectly!
Please make sure that your images are in a jpeg or png format. If we can't save your image, we may not be able to feature you. So sad!
By linking to the party, you give us permission to share your projects on our blogs and social media. We will always give proper credit with a no-pin image.
Let's get ready to say hello to September, as well as fall! Can't wait to see what you have this week!