Tuesday Turn About #81 – Winter Tidbits
Today, the party returns from Christmas break! It's Tuesday Turn About #81 Winter Tidbits.
TUESDAY TURN ABOUT #81 Winter Tidbits
Welcome back y'all, and HAPPY NEW YEAR!
Let's ask the question that EVERYONE seems to be asking… Are your Christmas decorations down yet, or are you enjoying them for as long as possible?
Me? I'm half up and half down… but most of my 'up' is winter/Christmas.
It's pretty cold here in So Cal, so I'm thinkin' it's cold wherever you are, too! Winter has begun!
So, this week, I'm featuring some winter tidbits. Three features of a bit of this-and-that for your winter season. And remember…
But, first… it's been a few hot minutes since we had some tips, so here you go!
Weekly Household Tip
Keeping your seasonal decor in color-coded containers is a great way to organize your storage area. You know… keep your Christmas decor in red lidded/handled containers, spring decor in purple or teal, fall in a gray or neutral color, etc. And, it looks pretty, too!
Weekly Blogging Tip
Here's a quick and surprising Pinterest tip. Try pinning a regular photo to Pinterest and see what happens. Even pin a tutorial step collage, like this one.
For some reason, it seems that once in a while Pinterest likes a pin that 'bends the rules'. You just never know what might make our 'dear' Pinterest happy. And it never hurts to do some testing to see what happens!
Though not a requirement at all, we would love it if you would subscribe and/or follow your hostesses on one or more of our social medias:
Goings-On With Your Hostesses
My Wee Abode
FREE 2021 Watercolor Calendar | 5 Easy Steps to Create Candle Rings
Thistle Key Lane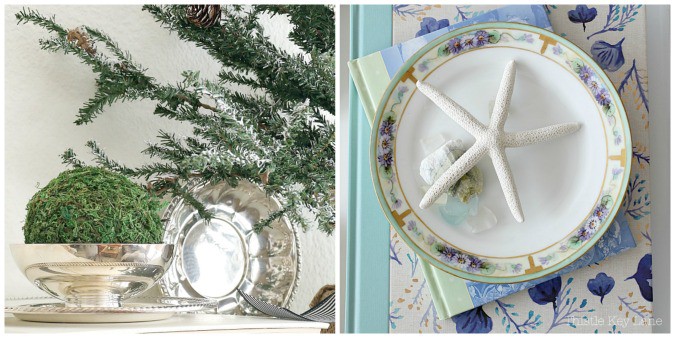 Transitioning From Holiday To Winter Decor | Decorating With Plates Simple and Easy
Bluesky At Home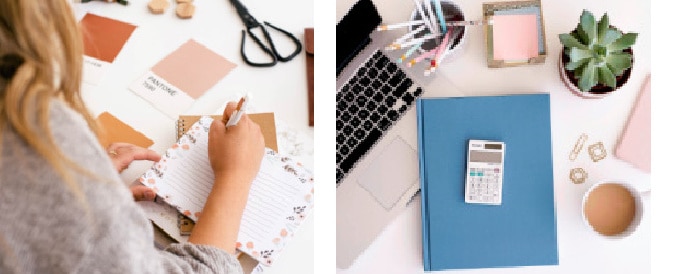 9 Simple Ideas to Set Up Your Planner| 11 Blog Changes from 2020
This Week's Features:
Gingerbread Cottages
Aren't these adorable? And tasty looking? Give me a good gingerbread recipe and I'm a happy gal. Make them into cute little cottages and I feature them on Tuesday Turn About! LOL! The powder sugar roofs look just like a fresh winter snow! Check out the recipe and find the baking pan from Janet at JRL Interiors.
Red Isn't Just for Christmas
Marie from Interior Frugalista is showing us how to make these gorgeous lanterns with scraps of wood! And the candle alternative is genius! Paint yours in the same "winter" red, or switch it out for black or any color you like. And you can decorate the top for the season, too!
Thrifting in the Winter Snow… It's a Thing!
Who woulda' thunk? Not this So-Cal-Gal! But Ann from Dabbling and Decorating is showing us just how she goes about thrifting in the Vermont winter snow! And, she shares some of her gorgeous photos with us, too!
Check out our Tuesday Turn About Link Party Pinterest board! All NINE featured posts are pinned to this board each week!
Now It's Your Turn! Link Away!
Let's start sharing! Because this is a party, we encourage all who link up to visit several other bloggers who have linked as well – comments and pins are a great way to spread the love!
Before you get started, take a look at our guidelines:
This party is for home decor and home-related posts only (recipes, organizing, DIY, crafts, etc.). Link up to 3 related posts. Please do not link up informational posts that do not relate to the topic.
If you would please not link up shops, advertising, round-ups, other link parties, or any posts promoting sales, we would appreciate it.
DO NOT PIN FROM IMAGES ON THIS PAGE (it just won't work right on Pinterest). However, please visit the original post/source and pin from there. That works perfectly!
Please make sure that your images are in a jpeg or png format. If we can't save your image, we may not be able to feature you. So sad!
By linking to the party, you give us permission to share your projects on our blogs and social media. We will always give proper credit with a no-pin image.
We are excited to see more winter posts, including storage and organizing! And feel free to throw in some Valentine's Day, too!
Thank you all, readers and bloggers alike, for joining us each week! We love sharing in this wonderful community!