Tuesday Turn About #101 Outdoor Dining
Things are starting to heat up! So, it's time for Tuesday Turn About #101 Outdoor Dining!
TUESDAY TURN ABOUT #101 OUTDOOR DINING
As I sit here typing, it's a sweltering 81 degrees here in So Cal!
All I can think about right now are the lovely outdoor dining (and handmade accessories) ideas I came across this past week at the party. So much al fresco goodness!
And remember, my hostesses are featuring more…
But how 'bout some tips, first?
Weekly Household Tip
Last week's tip was about keeping your lettuce crispy. This week's tip comes from a reader who also happens to be a dear friend of over 15 years:
Wrap celery in foil and it will keep much longer and still be crisp. ~Glenda
This was a new one to me! I'm excited to try it out! Thanks, Glenda!
Weekly Blogging Tip
Have you noticed we've stayed away from the "S" word? Or maybe the "S" letters? We're talking "SEO".
There are so many aspects of SEO, and let's be honest… It's probably the most challenging part of blogging. Well, that and time-management (especially for those of us that blog part-time)! And, disclaimer here, I'm NO expert!
To get things started on this subject, what tools are you using for keyword search? One of the easiest ones that I use (and it's free) is Pinterest! Yep… Pinterest! Simply start typing your topic/project in the Pinterest Search Bar, and you'll see all kinds of keywords. For example, "thrifted basket"… checkout all the phrases and words that come up, and use them in your post and/or Pin!
Now, let's party!
Though not a requirement at all, we would love it if you would subscribe and/or follow your hostesses on one or more of our social medias:
Goings-On With Your Hostesses
My Wee Abode
Fresh Lemon Watercolor Printables for Summer | DIY Chippy Paint Thrifted Basket Pinterest Challenge
Thistle Key Lane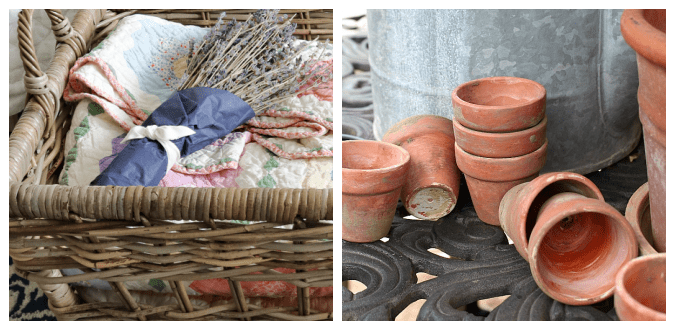 Summer Bedroom Updates And A Quilt Basket | DIY Aging Terracotta Pots
Bluesky At Home

How to Use Cabana Chairs for Your Outdoor Spaces | How to Stencil a Painted Cabinet
This Week's Features:
A "Juicy" Al Freso Story
Okay, y'all… This is just a PREVIEW of the amazing citrus and floral al fresco dining tablescape that was created by Barbara from Mantel and Table (and her blogging cohort Renae from Peacock Ridge). The whole table is even more breathtaking than this close-up photo, and the story is SO fun to read! Be sure to hop on over to see it all!
A Family Garden Party
Bright and fresh are the words that came to me when I saw this family garden party from Karin's Kottage. Karin gives tips on the menu, tablesetting, and backyard 'venue' so you can create your own outdoor family gathering. I especially love the simple centerpiece! Can you guess what's in the bottle? (It seems closeup photos are my fave this week!)
Keep Those Bugs Away!
Talk about a fun project that's pretty and practical! My dear friend and blogging bestie, Paula from Sweet Pea, is sharing her tutorial on how to make these handmade citronella candles. These are perfect for keeping the bugs away on your al fresco tables this summer! Tip from Paula: Keep your eye out at thrift stores for vintage looking vessels to hold the candle mixture!
Check out our Tuesday Turn About Link Party Pinterest board! All NINE featured posts are pinned to this board each week!
Now It's Your Turn! Link Away!
Let's start sharing! Because this is a party, we encourage all who link up to visit several other bloggers who have linked as well – comments and pins are a great way to spread the love!
Before you get started, take a look at our guidelines:
This party is for home decor and home-related posts only (recipes, organizing, DIY, crafts, etc.). Link up to 3 related posts. Please do not link up informational posts that do not relate to the topic.
If you would please not link up shops, advertising, round-ups, other link parties, or any posts promoting sales, we would appreciate it.
DO NOT PIN FROM IMAGES ON THIS PAGE (it just won't work right on Pinterest). However, please visit the original post/source and pin from there. That works perfectly!
Please make sure that your images are in a jpeg or png format. If we can't save your image, we may not be able to feature you. So sad!
By linking to the party, you give us permission to share your projects on our blogs and social media. We will always give proper credit with a no-pin image.
Summer is coming, and so are the summer posts! But, we still LOVE spring posts… and DIYs, and organizing, and… Well, you get the picture!