Tuesday Turn About #222 Fallelujah
Tuesday Turn About #222 Fallelujah: We are in full fall swing, and today there is a little bit of this and a little bit of that to make us shout, "Fallelujah"!
TUESDAY TURN ABOUT #222 FALLELUJAH!
The party has started, and we're SO glad you are here!
Lynne and I are all about celebrating fall this week…
And, I'm sharing a couple unconventional fall DIYs that are perfect to start, now that the weather is cooling down! This morning, it was 72 degrees inside MWA, and we didn't even have the AC on!
If you don't see your post featured this week here at My Wee Abode, remember…
Be sure to hop on over to My Family Thyme to check out FIVE additional features from TTA!
If you haven't been featured at MWA this week, you just may be featured there!
Weekly Household Tip
Here's a baking tip from Lynne at My Family Thyme:
Baking season is right around the corner! Baking soda is a chemical leavening agent that helps your baked goods rise and brown. Now is a good time to check that your baking soda is fresh and will be good to use.
To check if baking soda is active, put a tablespoon of baking soda in a bowl. Add a splash of white vinegar or lemon juice (an acid) to the baking soda. If there is a strong reaction, the baking soda is still fresh and good to use in your baking!
Weekly Blogging Tip
Today's tip is to to be yourself and stay true to your own voice.
With AI (artificial intelligence) making its way on the scene in a big way, you may be tempted to let AI write your posts for you.
Using AI as a helpful tool is understandable, but be sure that your voice is still being heard, with maybe just a wee splash of suggestions from apps like ChatGPT.
My Wee Abode
DIY Decoupage Coastal Pumpkins with a Twist //
How to Make Easy DIY Hand Painted Magnets
My Family Thyme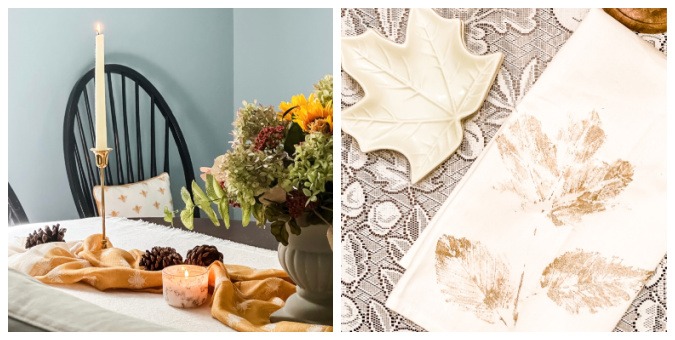 Simple Subtle Early Fall Decorating Ideas //
How to Easily Make Leaf Stamp Tea Towels for Fall
Check out our Tuesday Turn About Link Party Pinterest board! All NINE featured posts are pinned to this board each week!
Let's start sharing! Because this is a party, we encourage all who link up to visit several other bloggers who have linked as well – comments and pins are a great way to spread the love!
Before you get started, take a look at our guidelines:
This party is for home decor and home-related posts only (recipes, organizing, DIY, crafts, etc.). Link up to 3 related posts. Please do not link up informational posts that do not relate to the topic.
If you would please not link up shops, advertising, round-ups, other link parties, or any posts promoting sales, we would appreciate it.
DO NOT PIN FROM IMAGES ON THIS PAGE (it just won't work right on Pinterest). However, please visit the original post/source and pin from there. That works perfectly!
Please make sure that your images are in a jpeg or png format. If we can't save your image, we may not be able to feature you. So sad!
By linking to the party, you give us permission to share your projects on our blogs and social media, with the use of ONE photo from your blog for that may be included in a pinnable collage. We will always give proper credit with a no-pin image.
Thank you SO much for continuing to link-up at the party, and for visiting our bloggers that share their posts! Looking forward to all the fun in the coming week!